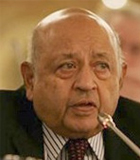 LATE K. SHANKAR BAJPAI
FOUNDING CHAIRMAN AND TRUSTEE
K.Shankar Bajpai, Former Indian Secretary, External Affairs Ministry, and Ambassador to Pakistan, China and USA.

Born March 30, 1928, in Jaipur, India. Educated St Albans School, Washington D.C. ( Cum Laude, 1944, with prize for English; Editor, School Year Book; co-Chair Government Club).
Merton College, Oxford, ( BA Honours in History 1949, MA 1954, President of Indian Club, Film Society and Cosmos Society)
Ecole des Hautes Etudes Universitaire, Geneva 1952
Speaks French, some German, in addition to English and Hindi
Career Joined Indian Foreign Service 1952, served in Bonn, Ankara, Bern 1955-8, Political Officer, Indian High Commission in Pakistan, 1962-65. In External Affairs Ministry, Under Secretary Arab Affairs, Deputy Secretary UN Affairs, Special Officer for Disarmament 1958-62 Special Officer for Pakistan Affairs and Director Americas, 1966-67

As Head of Post or Mission Consul General, United States West of the Mississippi, in San Francisco, 67-70 Government of India's Representative in Sikkim, 70-74 Ambassador to The Netherlands, 1975. High Commissioner to Pakistan, 1976-80. Ambassador to China, 1980-82. Secretary, External Affairs, 1982-83. Ambassador to the USA, 1984-86

After retirement from government service in 1986, entered academic life: Distinguished Visiting Fellow, Netherlands Institute for Advanced Studies, 87 Regents Professor, University of California, (all campuses) 1987-88 Visiting Professor, University of California, Berkeley, 1989-92. First Professor of Non- Western Studies, Brandeis University, 1992 & 93. Visiting Fellow, Center for International Security & Cooperation, Stanford, '02. Senior International Adviser, Merrill Lynch, International, New York 1995-2000. Chairman, Delhi Policy Group, an independent "think-tank", since its founding, '94. Also involved in various "track-two" interactions with the USA and Pakistan.
At 90, when I look back

Date: March 30, 2018

India faces more problems than it is even aware of. More worryingly, the country is unaware of the deficiencies of mechanisms it …

Read more
Past publication not found...