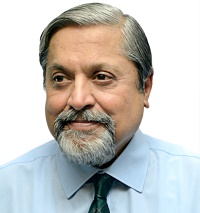 Vice Admiral Anil Chopra, PVSM, AVSM (Retd.)
Distinguished Fellow
Vice Admiral Chopra has the unique distinction of having been the Commander-in-Chief of both the combatant commands of the Indian Navy, i.e., the Western Naval Command and the Eastern Naval Command, as well as being the Chief of the Indian Coast Guard for three years in the immediate aftermath of the 2008 Mumbai terror attacks.

He has been a Member of the National Security Advisory Board (2017-19), and of the apex Defence Acquisition Council, chaired by the Raksha Mantri, (2008-11).
At sea, he commanded the Western Fleet, the Indian Navy's sword-arm; the aircraft carrier, INS Viraat; the destroyer, INS Rajput; and the missile corvette, INS Kuthar.
He was Chairman of the Offshore Security Coordination Committee; the National Maritime Search and Rescue Board; the National Oil Spill Disaster Contingency Board; and Patron of the Sea Cadet Corps.

Admiral Chopra has been a Distinguished Fellow with a number of think-tanks, including the Observer Research Foundation, Gateway House and Vivekananda International Foundation. He has been on the Governing Council of the United Services Institution, and of the National Maritime Foundation. He has also been active in India's track 1.5 and track 2.0 dialogues, both at home and abroad.

A committed proponent of scholarship in the Humanities, he has been a member of the Governing Council of the Mahindra Leadership University, its Academy for Leadership Development, and has chaired its Core Group on the Humanities.

He has travelled extensively, in both professional and private capacities, and has been assigned abroad in Europe and the US on several occasions, including a year as a Senior Fellow at the US Atlantic Council in Washington D.C.

Admiral Chopra is a second-generation military officer. He is an alumnus of the Lawrence School, Lovedale; the Sherwood College, Nainital; and the La Martiniare College, Lucknow. He obtained his Bachelor of Science degree from the Jawaharlal Nehru University, and his Masters and M. Phil. in Defence Studies from Chennai University.

For his distinguished service, he was awarded the Ati Vishisht Seva Medal (AVSM) in 2007, and the Param Vishisht Seva Medal (PVSM) in 2013, by the President of India.
Past publication not found...